BOOK DESCRIPTION: 
Your child will say,
"WOW, I can do this!" or
"WOW! Look at this!"
Learn Letters and Meet Friendly Animals Through Coloring
    Imagine your young child being able to learn their letters, develop better hand-eye coordination, and discover friendly animals all at once!  This coloring book makes it easy. It provides a focused activity for hours of fun at home, in the car, or while traveling — and it doesn't require a screen or battery. Each page features one letter and a smiling animal — from A for Alligator to Z for Zebra. 
ONE LETTER, ONE ANIMAL!  Chilren will find the name of the animal in big letters (that can be colored) along with an illustration of a familiar (or unusual) animal.
COLOR AND TRACE THE ALPHABET. Each letter can be colored as well as traced. This reinforcs the pattern in your child's mind. 
EASY COLORING. Large print with block letters and bold lines make this book easy for little hands to color. 
FUN FACTS. Did you know that fish don't have eyelids?  Scientific facts about each animal build a child's curiosity about nature while coloring.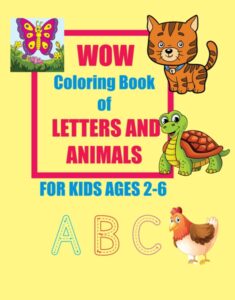 WOW Coloring of Letters and Animals
Click below to order from Amazon online.
READER COMMENTS:
Recently published