BOOK DESCRIPTION: 
Junah Cat Finds
PURR-fection in the Forest
A FOREST WITH A MYSTERIOUS SECRET
A CAT AND MOUSE ON A QUEST 
HELP FROM FOX, OWL, BEAR, AND TREES
    Curious about everything, Junah Cat is determined to find the secret of the forest. Together with his friend Mo Mouse, Junah braves predators, rain, and even fire to discover the real magic of the forest and his own life.
    When he sees how blackberry bushes are nourished by a pool of water, Junah purrs "water the root to enjoy the fruit." Or when he hears a bear ask the bees for honey, he purrs "Speak the sweet truth." Each purr leads Junah closer to the secret.
   Enjoy short episodes and detailed illustrations. Stretch and grow with Junah. Find a deeper connection to nature.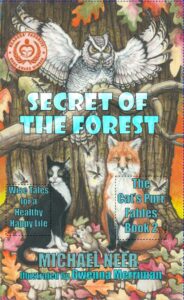 Secret of the Forest
This is Book 2 in The Cat's Purr Fables series.  Click below to order from Amazon online.

Bronze Medal Award
Secret of the Forest received the Bronze Medal Book Award in the Reader's Favorite Award Contest in 2021. The award was in the Children's Fables category.
READER COMMENTS:
"So much wisdom in many passages."
"My 8-year-old loved this fun book."
"Your child will look forward to reading each chapter."
"Kids will beg you to keep reading."
"This story will both entertain and inspire young readers."
"An excellent opportunity to explain concepts that help kids live a fulfilled and happy life."
"I encourage parents to discuss this book with their children and to read it more than once."