BOOK DESCRIPTION: 
Find the Secret to Your Freedom
Take a journey with Ravi and Verda to discover the elixir at the Heart of the Sun, mentioned in the legends of Raam. See how they use the elixir to attain freedom from doubt and narrow thinking, from fear, captivity, and even time itself. to live their own true purpose. Discover that old legends, even this story, are really true.
A JOURNEY OF AWAKENING THAT WILL STIR YOUR HEART AND SOUL. A LOVE STORY FOR NATURE AND LIFE ITSELF. A TALE THAT ECHOES THROUGH ALL TIMES AND PLACES.
—————————-
Review in The Fresno Bee
March 27, 2016
Local author offers vision of a better tomorrow
BY RICK BENTLEY
[email protected]
Fresno's M.R. Neer has published "The Elixir of Freedom" (Veda Publishing, $11.95) the first in the "Light Finder Legends" series.
Neer says the book falls into the visionary fiction genre and is targeted to teens and adults who are interested in personal growth. The work is fiction, but the author suggests that the vision of a better tomorrow can become a fact.
"The Elixir of Freedom" follows Ravi and Verda on a quest to find the Heart of the Sun, a legendary way to defeat all enemies. Ravi is looking to rescue his twin brother who has been forced to work in the coal mines. The solution comes in the form of an elixir made of sap and sunlight.
Neer, who is a former English teacher and magazine publisher, wrote the book because he believes people remember deep stories more than speeches. The story is a reflection of those who are looking for answers to anything from bad habits to doubts.
The author says the story is a real experience that's described in all cultures and traditions but is lost in our modern habit of lurching from one problem to another.
The book is available in paperback and ebook at Amazon.com and other online sites.
——————————————
I just finished reading M.R.Neer's The Elixir of Freedom from his new Light Finder Legends series, and I was enchanted.  M.R. Neer's direct and simple language allows the story itself to shine through: a tale of innocent love and quest for Knowledge. It follows Ravi and Verda in their search for the Heart of the Sun, the one tool that will overcome the destructive darkness in their environment and, by extension, in the world.  Throughout this compelling story, M.R. Neer reminds us of the powerful fact that just one flicker of light can overpower even the deepest darkness. It's a captivating story that will resonate with all ages and all levels of readers. Barbara Ehrenburg, Phoenix, AZ, April 29, 2016
I just finished The Elixir of Freedom. It incorporates strong character values within an easy and fun to read story. Children and adults alike should gain insight from these pages as they remind us that challenges can be met through a perspective of our good within instead of focusing on the problems we face. Wholesome, intuitive, and filled with an understanding of how to successfully live life. A story that can get a clear point across without resorting to sex and violence.  S. Martin Fresno, CA, April 26, 2016
This is a must read for people of all ages. The author imparts a timely message with candor, humor, and an excitement about life. I am a mental game coach and teach the value of a positive outlook in all one does. Mr. Neer's "Elixir of Freedom" brings the "positive" to the height of awareness in his timeless story. Don't miss this one — it is a gem, that will brighten and shine upon you for a long time to come. I look forward with anticipation to the second book of the series!! Amazon Customer, April 17, 2016
Reading this story was beyond enjoyable. It's like the words flowed through me like the elixir of freedom as described in the book. So positive and peaceful. Like you were right there with the characters. Looking forward to the next book in the series.   Amazon customer, March 24, 2016
To write a book about something and when reading the book you actually feel that something is a power that cannot compare. Read this book and feel the light. Amazon customer, March 4, 2016
I think it is a delightful story with a terrific message. I see a connection with the Elixir and the process of meditation and its rewards. It is a good read and I love the sketches at the beginning of each chapter. You definitely will have your fans and audience. — Lourdes M.R. Matos, San Juan, Puerto Rico
I thought it was very refreshing to read a good story without all the violence.  The book had some good lessons for young and old alike. I'm interested to read more of the tales of Ravi and Verda! Keep them coming. — Nancy Applegate, Fresno, CA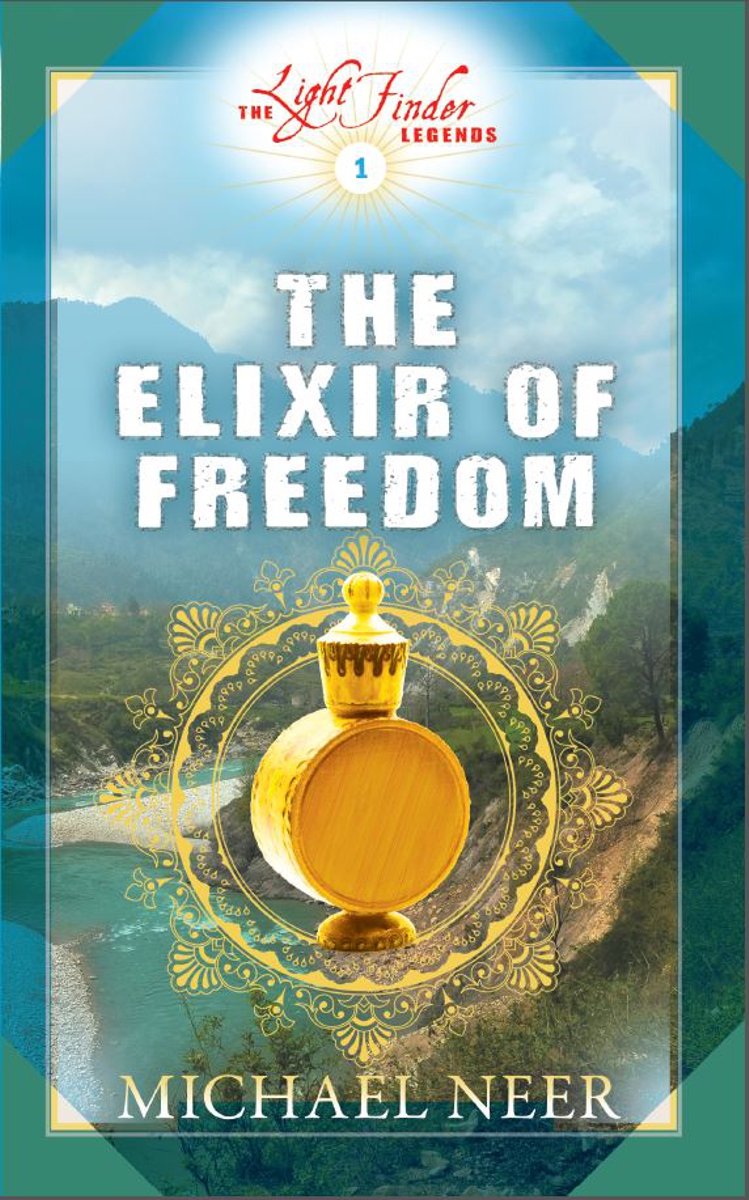 the elixir of freedom
Book 1 in The Light Finder Legends series.  Click below to order from Amazon online.
Amazon Best Seller
The Elixir of Freedom was an Amazon Best Seller in two categories.
READER COMMENTS:
"M.R. Neer shows how darkness can only be fought with light, as his heroes search and find a powerful experience of light that transforms them and their world. Take this adventure with them, and you will find the light in your own heart."
— Diane Frank, author of Yoga of the Impossible
"A riveting tale of adventure to discover your passion and purpose! The story of Ravi and Verda is a metaphor of our own journey to find the light within. I felt my own heart open with hope. M.R. Neer has crafted a wonderful series for kids and adults."
— Rev. Joanne Burns, Unity Minister and Youth & Family Ministry Specialist
"In the tradition of JRR Tolkien and CS Lewis, author M.R. Neer has created a great new fantasy series with an added spiritual dimension."
— James C. Fairchild, Ph.D., Associate Professor of Literature and Creative Writing, Maharishi University of Management
5-Star Review by Maria Beltran for Readers' Favorite
 … This is a story that warms the heart and, at the same time, it reminds us of the need to appreciate nature. Author M.R. Neer has a vision of the future and it is a beautiful picture. As Ravi goes on a quest to find the light that will transform his world, we are reminded of all the quests that we have to go on throughout our very own lives.
5-Star Review by Rabia Tanveer for Readers' Favorite
… This is a really amazing story. I picked up this book, read the first page, and I was hooked. I just could not stop myself. The story is great, the fantastic elements were great, and the characterization was spot on. I loved the plot, how it sprung up and become a giant, living being. It is a well-conceived novel that will stick in your mind and make you think about it long after you have finished reading.
4-Star Review by Ica Iova for Readers' Favorite
… The Elixir of Freedom by M.R. Neer is a captivating tale of intrigue, love, and danger in a world where fantasy is woven into reality. Gripping, clean, and character-driven, with a unique premise and skilled writing, the story draws you in from the first page and takes you on a magical journey. … Through their determination and powerful love for Vik, Ravi and Verda inspire us to examine our own lives and try to find our own internal light that could lead us to a better existence.
5-Star Review by Deepak Menon for Readers' Favorite
"Well thought out and a fine  book– the  author has really delved  into  family values, bonding with  nature, and  the goodness of things.  …  This book is a classic literary effort and  fully deserves a bouquet of  5 stars.
4-Star Review by J. Aislynn d'Merricksson for Readers' Favorite
I read this story to my cubs, ranging in age from 6-14. They all enjoyed it. Their favourite parts were when Ravi and Verda had to confront illusions while traveling in the misty swamp, and finding the Heart of the Sun. The kids made the rather astute observation that people need the strength of others in order to best overcome adversity.
Seeing their enjoyment as we read the story, well, that's something priceless. If you or your kids like movies like Warriors of Virtue, or The Neverending Story, or the books of CS Lewis, be sure to check out this book!