BOOK DESCRIPTION: 
Junah Cat Discovers
the Way of PURR-fection
Junah Cat is challenged to find the secret of the garden by the mysterious three sisters. He teams up with "Mo" Mouse to follow a trail of PURRs, or insights about nature, that make life happy and healthy. He realizes this is the Way of Purr-fection, and the ultimate secret, revealed at the end, will connect you to nature in a deeper way. You will purr with delight with these new insights!
From PURR to PURR
When the night sounds make a symphony for him, Junah purrs that "the whole is more than the sum of the parts". Or when the bee and the butterfly describe their delight in finding nectar in the flowers, Junah purrs that we can "enjoy and accomplish more". Follow the path of purrs to find the garden's secret!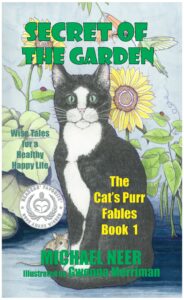 Secret of the Garden
This is Book 1 in The Cat's Purr Fables series.  Click below to order from Amazon online.

Silver Medal Award
Secret of the Garden received the Silver Medal Book Award in the Reader's Favorite Award Contest in 2018. The award was in the Children's Fables category.
READER COMMENTS:
"a charming children's fantasy story"
"an excellent tool to teach young people the power of life, learning, and growing"
"an enchanting look at the hidden and interwoven lives of all natural things"
"Reminded of the young King Arthur's experiences in T.H. White's The Once and Future King."
"most highly recommended"
"The Tales of Peter Rabbit meets Aesop's Fables in this exquisitely written children's book."
"sure to keep children happily engaged for hours"
"This book is a must-have in any children's library"
"The illustrations are adorable and delightful."
"The concept is fresh and unique and that makes it a must-read for children."
"The book is good for story-telling sessions, both at home and in classrooms."
"stories of wisdom, enlightenment, and wellness"
"Definitely worth any young reader's time!"