BOOK DESCRIPTION: 
Relax with a Cat's Purr and Bring a Story to Life with Your Coloring
Use your love of coloring to bring to life Junah Cat, Mo Mouse, and other animal characters as they explore a garden looking for its secret. Clues to the secret are contained in the Trail of Purrs, or wise insights into nature and life itself, that the characters follow.
THIS IS A COLORING BOOK WITH A STORY. It is based upon author Michael Neer's award-winning children's series called The Cat's Purr Fables. These illustrations are from Book 1, Secret of the Garden: Wise Tales for a Healthy Happy Life. Each of the 30 illustrations features one Purr that will inspire you with the wisdom of nature and life.
EXAMPLES OF THE CAT'S PURRS
Great Possibilities Are Inside Us
Enjoy and Accomplish More
Originality: Each illustration has been hand-drawn by the artist in outline format to match original fables about life and nature.
Relaxation: Settle down into the world of relaxing colors and natural images and leave your problems behind.
Inspiration: Use the wise purrs to remind you of the deeper truths of life that will inspire you to better health and happiness.
Borders: The artist has created unique borders for each image to give you additional coloring options that relate to the story and image.
Single-Sided Pages: Each illustration is placed on a separate page to reduce the problem of color bleeding. This is also great when you want to hang the finished picture on the wall.
Great Gift: This book is the perfect gift for any person and any occasion. You give them fun, relaxation, and creative expression. For those who like cats or inspirational quotations, this book is a double pleasure.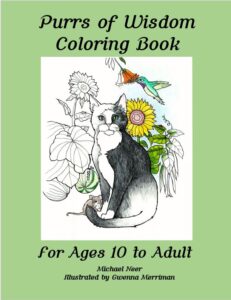 Purrs of Wisdom Coloring Book
Click below to order from Amazon online.
READER COMMENTS:
recently published