BOOK DESCRIPTION: 
Junah Cat Discovers How to Listen to His Heart
    Junah Cat is challenged by the three sisters to find the secret of the heart. The sisters give him clues to five "heart patches" that he and his friend Mo Mouse must learn about to find the secret. The story unfolds with the help of new friends like Ginger Cat and Marty Mouse, as well as the powerful Oliver Owl. They learn that the heart must be watered, must be known, and must be helped to grow.
      Through listening to his feelings in the land of the heart, Junah finds new purrs, or insights into nature and life. For example, in seeing a dragonfly and the sunset, Junah purrs, "Pay attention to enjoy more." After bending and stretching in new ways, Junah purrs, "We learn by trying things and by listening to stories." Follow the path of purrs to find the heart's secret!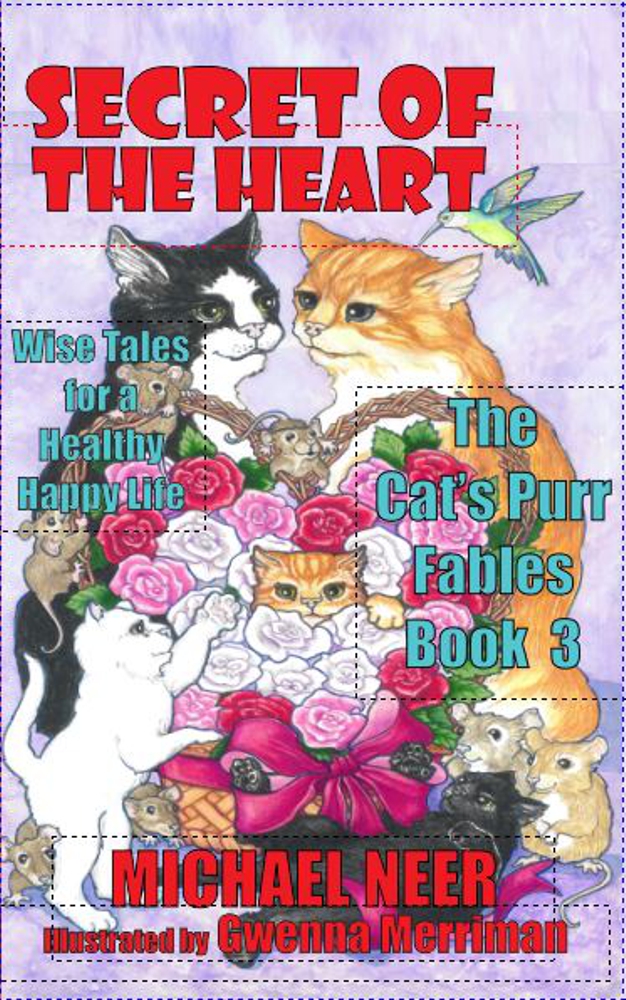 Secret of the Heart
Book 3 in The Cat's Purr Fables series.  Click below to order from Amazon online.
READER COMMENTS:
Multiple 5 star Reviews
another inspiring story in the Cat's Purr Fables series.
told in simple language to help young readers improve their reading skills
exceptional black-and-white sketches to accompany the story
Like the classics, Tales of Peter Rabbit and many others, this will engage with, entertain, and educate young readers. Well done! Loved it!
picks up from where Aesop left off
Whether you're a cat person or not, you'll find Junah's adventure sweet and uplifting
a modern-day fable that is a must-have for all school libraries and a must-read for all book lovers whether you are young or young at heart.
not the first book that details the exploits of Junah Cat and Mo Mouse, but the story may be read as a stand-alone.
readers can explore feelings and emotions while learning about nature
clear and thought-provoking without going beyond a child's understanding.
Children will love the beautiful illustrations
a book that explores friendship, appreciation, and discovering oneself without the language and questionable situations portrayed in some books for older children.
Children who are at a second-grade reading level could easily read and enjoy the book, but the story is entertaining enough to delight older children too!
Fun-filled and wholesome children's book
Vibrant characters who leap off the page
Interesting tidbits about the natural world
bite-sized chapters and fantastic illustrations